120W Portable LED UV Nail Lamp
Item Package Dimensions L x W x H

 

‎23.9 x 23.2 x 10.7 centimetres
Package Weight

 

‎0.67 Kilograms

 

Item Dimensions L x W x H

 

‎2.4 x 0.96 x 2.82 metres
Brand

 

‎SEESEETIME
Colour

 

‎White and Black
SKU
BE-LQ-01
BE-LQ-01(BQ-5T)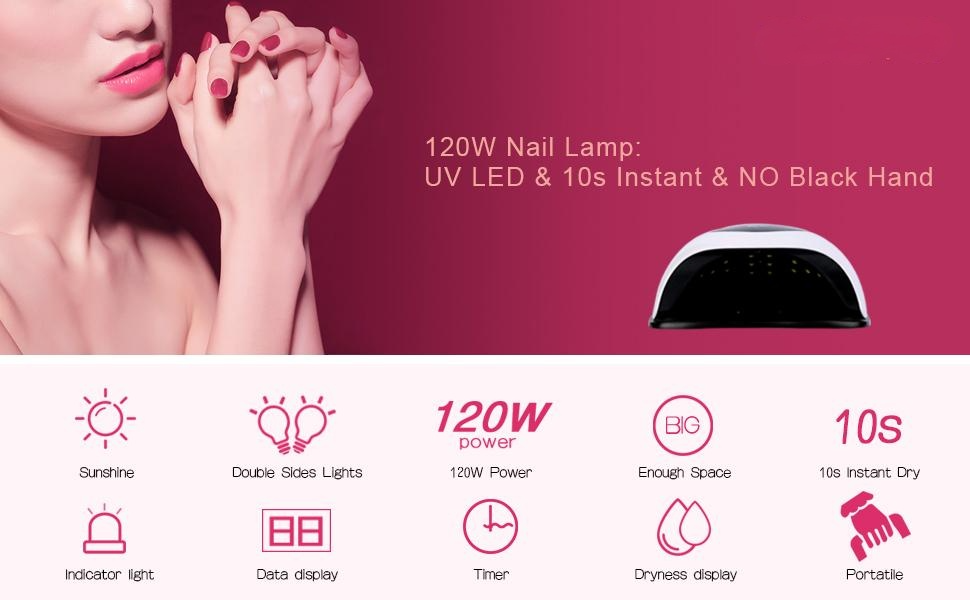 ❤120W High Power:The narrow spectral band and high light intensity activate photoinitiators in the gel and cures the nail incredibly fast. Making it a lot easier to cure for those who prefer hard gels or apply multiple layers of thick polish gel.

❤Large LCD Touch Screen and 3 Timers:Large LCD display show the usage time, the timers are pre-set from the 30s to 120s for experienced nail stylists to quick-select corresponding curing time for specific Nail gel polish. Additional touch screen No physical button will prolong the product's life.

❤Smart Sensor and Temperature Protection:Our UV/LED nail lamp provides temperature protection for your hands, bring a new nail salon-like experience.
Note: Strong external light may affect the infrared sensor. If the sensor light is not on, please try to use it in a weaker light.

❤No-Dead zone Curing Almost All Gel Polis:Space and specially designed light bead distribution ensure the flawless, even, and fast curing of all five nails at one time. The dual-light gel polish curing lamp cures LED gels, hard gels, builder gels, artificial nail gels, sculpture gels, UV gels, and even tough shellac nail gels. Ideal for both home and salon.