HOTROVEL BRAND INTRODUCTION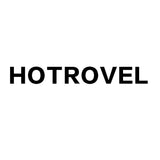 Hotrovel,  Our Brand Started In 2009 and Was Born In The United States In The Middle Of 2017, Which Means Fashion, Comfort, Freedom, Youth and Unrestrained.With Its Own Factory, Cutting-Edge Fashion Design, Fast Delivery and Quality After-Sales Service, It Once Became The Fashion Leader Of The Sock Brand.   
       Quality Products And Customer Smiles - This Is Hotrovel's Goal and Obligation To Focus On Online Retail.Relying on Amazon, Independent Websites and Major Retail and Mainstream Social Media Such as Google +, YouTube, TikTok, Reddit, Facebook, Twitter, Etc. To Provide Services To Consumers Around The World.We Adhere To Finishing And Finishing, Using The Best Natural Fiber Knitting and Weaving Products, Design and Create the Most Comfortable Wearing Experience.We are Committed to Providing Customers With Fashion Clothes Suitable For Daily Life, With Ordinary, Simple and Elegant Design Concept. 
     Love Her/Him, Send Her HOTROVEL, Your Her/Him, Wear HOTROVEL Today?   
   Today HOTROVEL are sold in more than 90 countries and on every continent.
   Simply put: there's a pair of high-quality socks and underwear for every occasion, mindset and style.
Our Vision:Coloring the world with HOTROVEL.